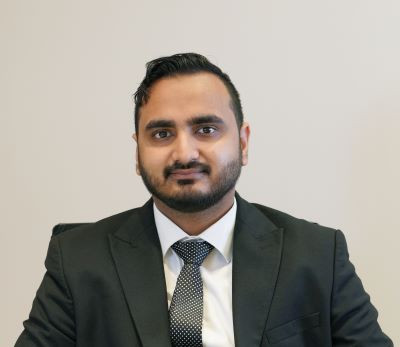 Student: Mr. Huzefa Khandawala
Country: Kuwait, Middle East
Program: BBA-IT
Batch: 2012-2015
"U Town" Story of Campus Company led by our
the then International Student " Mr.Huzefa Khandwala"



So Hufeza, you are a successful entrepreneur who graduated from BBA-IT, SICSR. You have your own company, Carisma that is based in Kuwait. I am a BBA-IT student right now, so I'm really excited to know about your experience from back in your college days.
H: My college days... Wow I am really lucky to speak about my college days especially now considering the pandemic. I had a great effect on the college lives of many students.
You know when you're in your first year, you get lots of people telling you all sorts of negative and ill things about the college, but believe me that's the biggest piece of gibberish
you will hear.
I had the 3 best years of my life at SICSR. Being a resident of Kuwait where things are very conservative, India was a great experience for me, meeting people from various parts of India and other countries too such as Africa, Fiji, Oman, Afghanistan and Yemen… People moan a lot about the attendance (It was 75% at our time), but believe me due to the attendance part, everyone is forced to attend, leading in increased interaction with your peers and creating more memories.
For me, SICSR, especially BBA-IT is the best course that one can take, providing you a mixture of new technologies on the IT side with entrepreneurship skills on the BBA side. In my third semester, I also had the privilege to teach the underprivileged and for me it was one of the best things I experienced in life.
And of course there was U-Town…
I've been told that you ran a campus company by the name of U-Town, can you tell me more about it?
H: Oh Yes… what I am today is only and only because of U-Town, and it's an experience I will never ever forget.
I remember it was my second semester and we had this subject called Entrepreneurship, which is where I first met my mentor, my guru, Rajashree ma'am. I always had the ambition of being an entrepreneur and learning that subject only increased my desire further.
It was there my partner Chaitanya and I met with ma'am and she told me about the opportunity to handle U-Town, which was to make merchandise for SICSR, an opportunity I just couldn't miss. By the way, we did go through a couple of audition rounds to manage U-Town alongside other competitors, but we were selected based on making a Business Plan. And that's how U-Town came into effect…and the rest is history!
So, U-Town sold campus merchandise, can you tell me how you managed the different operations of the company like marketing, accounting, selling, customer relations, etc.?
H: Yep, we sold campus merchandise such as Hoodies, Pens, Badges, Caps, T-Shirts, etc.
The journey was rough but a memorable one. The first step we took was to create a business plan with the help of Rajashree Ma'am (She has a whole book about Business Plan…Must Read) which gave us an overview of what had to be done. Afterwards it was all Execution! I remember searching for a proper supplier for 6 hours every day. We almost discovered the whole of Pune and some areas we went so deep it was frightening. For us, quality and timely delivery was the most important factor and then finally after around 3 weeks, we found the perfect supplier for U-Town.
Our plan was simple… we launched a pre-order campaign with posters around the campus and setting up a small desk at the reception. By this we got an idea which item is preferable and which sizes will work the most.
My partner and I made sure we will not take any advance payment for any pre booking as I always had doubts what if ordering went wrong or the order might delay? My worst fears were true as the T-Shirts and Hoodies were printed wrong and had to be sent back for re-printing. Thank God no payment was taken so we could handover the delayed shipment without much hassle to our clientele.
Once the product made it into the market, we got a lot of orders through word of mouth. Soon, due to management support, we also started merchandising orders for Symbiosis events, which further increased our business.
We used to maintain strict accounting to ensure no discrepancies were there where receivables, payables and profit sharing was concerned. It was done mostly using excel. We like to keep things simple and not complicated.
One of the main things we focused was on customer relations. Some people wanted to exchange items, some wanted refund and we obliged them happily, which gave us many rave reviews and led many people having repeat orders with us.
Well answering each and every question is taking me on an euphoric, nostalgic path.
I'm sorry but I have to ask, did the company make any profits at all (hahaha)? Considering it was a campus company and you were still learning business administration.
H: It was a one-of-a-kind experience for us and we were so excited about it. In fact, we completely self-funded the entire expenses even though college were supporting us with seed funding. Being in our teenage years, profit was the last thing on our minds. We were fully focused on delivering the right products and making customer relations. Once everything was in line, we did get our profits automatically. In the 1.5-2 years we managed, we earned profit in the margins of about 10-15%.
My advice to anyone running U-Town would be not to focus on profit-making but the experience… getting any profit is a bonus!
So, what did you really learn from U-Town, has it really helped your current start-up? If yes, in what capacity?
H: Learning would be an understatement for U-Town. As I said earlier, what I am today is all because of the support of Rajashree Ma'am by trusting me for U-Town and my entrepreneurship skills. As I said before, Rajashree Mam has a Business Planning Book authored by her, which was fundamental in developing my business, so do read it!
From Business Planning to searching the suppliers, to marketing, to event management to customer relations, to research & development to learning from mistakes to accounting and finance… each and everything I learnt from U-Town.
After my U-Town experience, I strengthened my entrepreneurial mind and followed that route only. Back in Kuwait, I started doing everything I learnt in my college, which was:
Event Management, organizing events for various clients such as E&Y, HORECA Kuwait (Kuwait's biggest B2B Hospitality Exhibition), Complete Planning and Execution of Green & Clean Technology & Exhibition (Which was sponsored and undertaken by HH The Amir of Kuwait, Sheikh Sabah Al Ahmad Al Jaber Al Sabah) and many more!
An IT Firm, Digital Edge Solutions, where I got the opportunity to do Digital Marketing and Web Development for the most prestigious brands in Kuwait.
Carisma, Kuwait, an online car accessories store.
One of my teams is in India too…..as Rajashree ma'am says, entrepreneurship is about fulfilling the gap in the market as well as creating jobs for the economy, so be a leader and create other leaders!
And hey, my businesses are all related to BBA-IT!
Final question, and this is the most important one and has been bugging me for a while, how did you manage your work and academics? Were you able to strike a harmonic balance or was it completely chaotic or a mixture of both?
H: I was one of the toppers in university with a CGPA of 3.7/4!
I always made sure to attend all the lectures possible to maintain my attendance as well as to manage U-Town. During the break between lectures and regular lunch breaks and post college, we used to work on U-Town development.
While U-Town is the best experience one can have to develop entrepreneurship skills, it should not be taken as an excuse to be absent from your academic lectures, which are of utmost importance. We should keep in mind that after your college when you are submitting your CVs everywhere (in case you want to try and do a job), the first point still remains your CGPA and marks. So never compromise on lectures and studies.
Life is all about maintaining the balance and most importantly Time Management… I used to manage U-Town, attend lectures, score good marks and also hangout with friends and have a social life which is very important in college. If you skip your college unnecessarily, it will boomerang right to you when you need to skip it at an important time. So always remember to manage your time properly and work smart!


Conducted by,
Manan Agarwal
BBA IT (2020-23)
CURSOR 5.0 | VOLUME 4 ISSUE 1, JANUARY 2022