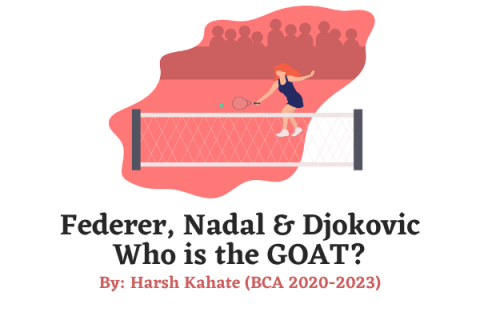 Who doesn't know Roger Federer, Rafael Nadal, and Novak Djokovic? I believe everyone does. While I am writing this article, the final decision regarding Novak Djokovic has been made and the high voltage drama related to his Australian Open participation comes to an end. Several people are supporting Novak Djokovic and on the other hand, some people have already called him 'worst sportsman ever'. Apart from this, Rafael Nadal is participating in the Australian Open, intending to win his 21st grand slam title and go one step ahead of Federer and Djokovic. Roger Federer is currently trying to recover from his knee injury. Therefore, this is the right time to ask, "Who is the real GOAT of men's tennis?"
What do the statistics say?
Considering the grand slams, the big three are stuck together on 20 grand slams each.
Federer leads as far as career titles are considered with 103 titles, followed by Nadal (88 titles) and Djokovic (84 titles).
Nadal has won 2 gold medals (in singles and doubles) while Federer has one gold medal and one silver medal. Djokovic has won a bronze medal.
At ATP masters tournaments, Djokovic has the first position (37 titles) followed by Nadal (36 titles) and Federer (28 titles).
Djokovic has been ranked number one for 355 weeks, followed by Federer (310 weeks) and Nadal (209 weeks).
The money factors
Federer earned $106.3 million in total earnings in 2020, according to Forbes. Djokovic, on the other hand, earned $44.6 million, and Nadal, $40 million.
Federer's bank account is healthy despite being sidelined for the majority of 2020 because of a $300 million 10-year contract he signed with Uniqlo in 2018.
The grand slam and opponents also matter
Normally, when we talk about the big 3, we consider 4 grand slams.
There are four grand slams – Australian Open (January), French Open (May), Wimbledon (July), US Open (September).
If we consider the variety of dominance, Federer is the king.
He holds 6 Australian Open titles, 8 Wimbledon, 5 US Open, and 1 French Open title.
As everyone knows, Nadal is the king of Clay, having a record 13 French Open titles. Apart from this, he has 1 Australian Open title, 2 Wimbledon titles, and 4 US Open titles. If he wins the Australian Open 2022, he will be the only player having one all grand slam title twice as well as an Olympic gold medal.
Djokovic's titles consist of
9 Australian Open titles, 3 Us Open titles, 2 French Open titles and 6 Wimbledon tiles.
When it comes to opponents, Federer has defeated some greats as Andre Agassi (8 grand slam titles), Marat Safin, Andy Roddick, Lleyton Hewitt, Marcos Baghdadis, Andy Murray, Juan Martin Del Petro, Marin Cilic, etc.
However, the Spaniard and the Serbian have dominated only limited players like Roger Federer, Andy Murray, Stan Wawrinka till recent times.
Social media dominance
Nadal leads as far as followers on Twitter and Instagram are concerned, while Federer has the most followers on Facebook.
Twitter
Roger Federer – 12.7 M
Novak Djokovic – 9 M
Rafael Nadal – 15.6 M
Facebook
Roger Federer – 18 M
Novak Djokovic – 10 M
Rafael Nadal – 14 M
Instagram
Roger Federer – 8.8 M
Novak Djokovic – 10 M
Rafael Nadal – 12.7 M
The final verdict
When a player reaches the high of big threes', there are millions of young boys and girls who see them as role models.
Djokovic is always seen shouting, breaking his rackets, throwing balls, abusing umpires and opponents, which Nadal and Federer have hardly done.
Tennis is a gentlemen's game, and Djokovic doesn't seem to have understood it.
The recent drama between him and the government of Australia shows his ego and irresponsible behavior which is not at all expected from a person in his position. He might be the greatest statistically, mentally, but he is certainly not the greatest tennis player of all time, in my opinion.
If Nadal had not faced so many injuries, probably the Spaniard would be ahead of Federer in terms of rankings, grand slams.
It is quite difficult to decide the GOAT between Nadal and Federer. However, considering the huge period of career, variety of opponents and surfaces and a constant, calm behavior which suits as a role model of millions, in my opinion, Roger Federer is THE GREATEST TENNIS PLAYER OF ALL TIMES.
References :
Ultimate Tennis Statistics : - https://www.ultimatetennisstatistics.com/
ATP Tour Website :- https://www.atptour.com/en/news/djokovic-nadal-federer-20-grand-slams-stats
CURSOR 5.0 | VOLUME 4 ISSUE 1, January 2022