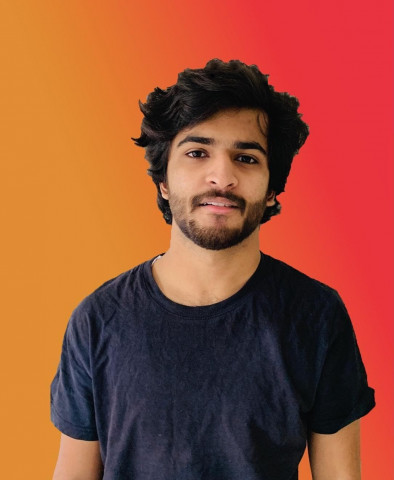 Name: Manish Mohan Patil
Batch: BBA-IT (2017-2020)
Company placed: Infosys Ltd
Company working in: Winvesta technlogies

Hey thanks for having me to be a part of the cursor 5.0's upcoming issue, feels great to be one of the students who once contributed towards the magazine and now being a respondent to the alumni corner of the magazine.

According to you, what are the few ways in which one can stand out while applying for jobs?
Confidence, skills, exploring / explorer attitude, command in language and the way you present yourself..be it CV, phone call, video call or in person.
All these are the key ingredients for you to make yourself stand out and lead you to opportunities that may not be directly pointing towards you!
In my case , I applied to jobs which required experience of 2-3 years and was served with a host of opportunities all because of the above mentioned skills.
Which additional skills do you think are valued in such circumstances?
Since we're all away and voice and video is the only way to connect, the ability / skill to be dependable and communicate well is one of the most important aspects that one needs to possess / develop.
What do you think about offline v/s online working?
I believe offline working is where you can interact with people whenever you want and whenever you see them. The beauty of knowing someone in person is unmatched and is something that we're all missing.
While online working also has its fair share. You can stay home, enjoying your work from your place of comfort. The advantage I feel of online work is that there is clarity of what needs to be done if well communicated and one wouldn't feel pressured to deliver under in person situations. Also communication is where everyone has developed much. Online work also may not have any time limits as strict as offline work, but that is where you need to maintain your work life balance and make sure you keep things aligned if deviating.
Did pandemic have any positive impact in your career?
Yes it definitely did, I was to join Infosys based on my BBA-IT qualification, but since all got delayed I took the step to upskill myself in the field of design (UI / UX) and added upon my BBA-IT qualification to secure a huge leaped opportunity which I could have only have been able to pursue after at least spending a minimum of 2 years of experience.
Do you have any advice for your juniors who will soon be sitting for placements?
My advice for juniors is to make sure that you are able to present yourself in a very sophisticated and well understood manner because you all have been studying over the air for quite a few months now and you may be asked if you really studied well? To combat that, make sure that you have at least done some or nominal work and have some experience / exploration activity that you did parallel to study which you can advertise and give confidence to the recruiters..cause that's what they look for! Apart from just books and marks. (ouch toppers...no offence ;) )
What were the things that kept you going during the pandemic ?
Even though we had so many things going around that impacted our thoughts, lifestyle, still we're all fortunate to be safe and away from the virus. During the pandemic I kept myself busy by binge watching TV, sharing fun stuff with family and exploring new recipes and devouring them.
On the contrary, the pandemic has been a great opportunity to explore my talents and things that I wanted to pursue which I had been procrastinating for a while now. During the early months of the pandemic I was not worried about what and how things would turn out as I did with college submissions and exams, and had secured a campus placement at Infosys.
About a few months into the pandemic I decided to take up a professionally structured course for UI UX, which has been my core interest for a long and one of the things that I had been active in doing in college and as a freelancer. I feel great and proud to have taken this course as I have been able to understand more in depth about this field and love my involvement in this profession.
What were the challenges you faced while sitting for placements amidst the pandemic?
Frankly, I was fortunate to have secured a placement well in advance before the pandemic hit 6 months in advance to be precise.
Talking about the hurdles, I feel that one needs to be confident wherever the interview is, be it in person or over the air. The hurdles that one could come across is what to answer / what to say and what to do in an interview, but really it's you who can be the driver to the interview. Be confident and steer your way, it'd be great!
Any suggestions that you would like to give to your juniors ?
Be an explorer, try to see what's going on, see what your interest is and try it out. Be open to doing odd jobs and embrace and be proud of yourself for all that you've achieved and are doing. Best of luck !
CURSOR 5.0 | VOLUME 3 ISSUE 2, JULY 2021