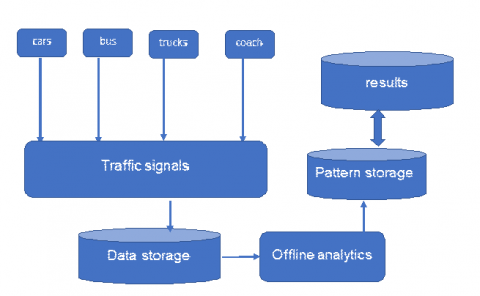 Author - Rishi parpyani and Reehan Basheer (BCA 2017-20)
Pune is one of the most congested city in India and the conditions are deteriorating due to various metro constructions going on in the city.
The bottlenecks are increasing in the city which are leading to huge traffic jams. The current traffic signals are based on time -quantum. It is the need of the hour to design a system where the traffic could be efficiently managed . Most of the traffic signals have the video camera installed in them which are constantly monitoring the roads. This existing technology could be exploited to build a modern system which continuously analyses the data collected from the video cameras according to which the new time quantum could be generated. This new time quantum generated could result in less waiting time in traffic signals. The proposed system does not require much cost for building as it is making use of the existing resource. The proposed system will also help in less carbon emission from the vehicles which could be a great benefit for a huge city like pune . Various countries have used technologies such as artificial intelligenceto control the traffic but such technology are expensive as the new system requires a lot of new hardwares . the system described above could be an low cost alternative .
This technology can prove to be a boon for the citizens of pune and at the same time a lot of time and cost could be saved.
CURSOR 5.0 | VOLUME 1 ISSUE 1, JULY 2019