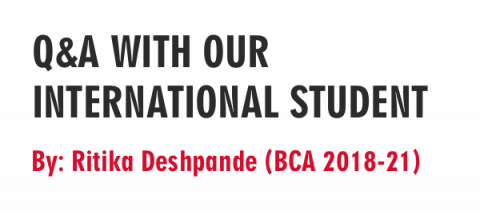 International Student: Akanksha Nagvenkar
Country: Dubai, UAE
Batch: 2018-2021
Program: BCA
Submitted By : Ritika Deshpande
Question- As Symbiosis International University believes in "Vasudhaiva Kutumbakam", do you feel you could blend into the diverse cultures on campus during your student days (current or past) and felt world is one family?
I was really looking forward to studying in India because it was going to be a whole new experience and when I came to Symbiosis the fellow students made me feel very comfortable in the new environment and taught me many new skills.
Question- Could you share your experience in this regard?
After spending most of my life in UAE I was always very dependent on my parents when it came to most of the outside world tasks but when I came to SYMBIOSIS I learnt how to improve my communication skills in the real world and it gave me great exposure to a lot of new experiences that were put in front of me.
Question- Any suggestions or special mention?
A special mention to all the amazing friends I made over time, all of whom are talented in their own special way and opened my doors to many fun experiences, they have always stood by me in times when I was unaware about how to handle certain circumstances.
Question- Did you get a chance to witness festivals or events of different cultures?
Yes, I did witness and enjoy every event that was organized for us international students as it also helped us teach about many other cultures and not only that of India.
Question- Do you feel Symbiosis could make you feel like home away from home?
Symbiosis did make me feel at home from day 1 from the faculty to the students each and every individual was very warm and welcoming.
Question- Share one Indian Cultural aspect which appealed to you the most?

An Indian Cultural aspect that appealed to me the most is acceptance, which I say from my own experiences.
Question- What did you learn from Indian students?
From the Indian Students I learnt a lot of life skills as well as I was able to improve my Hindi speaking skill which is very vital for conversing while in Pune.
CURSOR 5.0 | VOLUME 2 ISSUE 2, JULY 2020