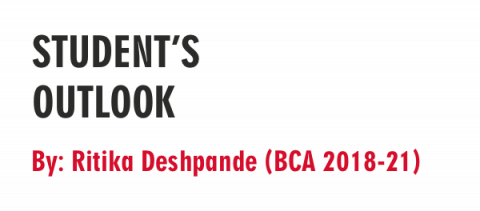 Submitted By: Ritika Deshpande
Here's an insight from few of our International Students revealing their experiences at SYMBIOSIS UNIVERSITY
We at Symbiosis Institute of Computer Studies and Research reached out to a few International students to know about their initial days or experiences at Symbiosis.
Symbiosis is a well-known University for their bio diversity in culture, students from various regions, expression of creativity, talents, artists and much more.
The Institute plays a major role at inviting and welcoming students from abroad or various parts of the world to instigate and commence their journey into the Indian culture, ethics and style of teaching. To make sure these students are embraced or remarkably welcomed for their initial days at the Institute, the family or the institution plans events and icebreaker sessions to help these students blend in with others and to help them explore all other fields like tourist attractions, food, festivals and students. Here's a look at what three of our International students from BBA IT have to say.
Student: Karishma Shah (BBA-IT 2019-2022)
I am from Tanzania.
The International University occurs to be the nicest place for me to understand the culture of various nations who arrive together in this institute similarly I get the opportunity to explain to my friends about my culture. Likewise, the faculty gives assistance to our studies and understands all of the difficulties that we have regarding the campus.
Student: Andrew Kola (BBA-IT 2019-2022)
I am an Indian, but born and brought up in Oman. When I first came to Pune, I was a bit worried about making friends, because I'm more of an introvert. But the International Committee in Symbiosis has really helped me make friends with a lot of people, helping me meet people from the country I came from and also meeting with other Local students. And they also took us on trips to other campuses, meeting with a lot of other international students, from around the world, making us feel comfortable. And they've been really helpful, by letting us share our concerns and problems with the teachers and leaders, about studies and on the campus dilemmas. And it's been a very wonderful experience for me so far.
Student: Mohammed Taha (BBA-IT 2019-2022)
I am a foreign national student from Tanzania. I speak English mostly and the local dialect of my Country Swahili. Initially when I started my journey in Symbiosis, I faced a communication barrier due to the fact that I don't speak Hindi but the teachers were quick to recognize and were very accommodating.
The students in my hostel also realized this whole change from Africa to India was massive for me so they tried being welcoming but I stayed antisocial for a whole month. My roommates helped me overcome most of my social anxiety.
I started learning more about Indian culture soon after. I visited many iconic landmarks and studied the ancient Maratha history. I particularly enjoyed going for Ganesh Chaturthi, Holi and Navratri. These 3 festivals will always be the greatest memories that I hope to cherish forever. I'm grateful to Symbiosis for giving me such a wonderful experience and exposing me to Indian culture!
CURSOR 5.0 | VOLUME 2 ISSUE 2, JULY 2020