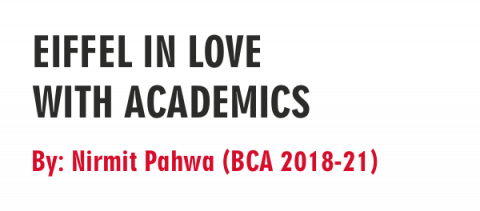 Semester Abroad -Global Immersion Programme
Participant - Nirmit Pahwa- BCA (2018-21)
University - Dauphine University Paris
Report submitted By : Ritika Deshpande
I do not know how to begin this report of an experience that I do not think I will ever forget in my whole lifetime. Ever since I got selected for this program, I was very anxious and nervous as well as excited and happy at the same time. I remember myself uselessly going through my French Language notes a day before the interview.
I reached Paris on 1st January, 2020 by the blessings of my parents and my family and the opportunity provided to me by my college, Symbiosis Institute of Computer Studies and Research (Symbiosis University), where I stayed with my family friends for 3 days to explore the natural beauty of the suburbs of the city. I learnt about the transportation system and the strike that had been going on there for a while which led to several disruptions in transport all over France. This was a little issue at first, since I was unaware of the locations, but I soon got along with it pretty well.
I reached my University Residence in Boulevard Jourdan on 3rd and felt joyous the moment I saw my studio apartment. It had a majestic view from my balcony with clearly visible Eiffel Tower from my 6th floor and the morning sunlight beaming into my room made it much cheerier. I unpacked a little and right away went out to explore facilities around my block. I had a very expensive dinner that night since I was unaware of the good student friendly outlets in my area.
Next morning, I instantly woke up early (because of the unavoidable excitement) and went for a jog at Parc Montsouris, which is a hub for students as its location is exactly at the opposite side of the Cite Universitaire. It is one of the major attractions in Paris for movie buffs, other than Luxembourg Garden (which I visited a day later with other Symbiosis friends that I got along with). I also discovered Crous Restaurant at Cite Universitaire which made it possible for me to save on my meals through the pocket friendly meal offers.
The next day, I met the rest of the Symbiosis Squad. Pretty cheerful and innocent people, I thought at first, but later found out they were as fun loving as me. The Welcome Week for Dauphine University was scheduled for 6th of January where I explored the university. I was quite late the first day when I got there, but I found out that I wasn't the only one who got stuck on the way due to the disruptions on the transport all over the city. I found the Dauphine International Team very supportive and friendly throughout the University Tour.
My Classes were going to start next week, and there was less information provided to me about my subjects and their availability. I had to dig into it throughout the week and was delayed till mid-February when I found out that my favorite subject, that I was most excited for, was not going to take place for this semester and I had to choose an alternate subject to cover up my credits. The management there was unluckily less communicating and many of us international students faced some problems due to that. But we all cope up pretty good and adjusted to it over the month of February.
Talking about the education I received, I'm very grateful for having the greatest set of professors teaching me through all of their experience they had. I had International Business Ethics taught to me by probably the humblest persons I've ever met. He literally taught most of the ethics via his behavior, interaction and his actions! Other than that, I had Ms. Gabriella Pigozzi who taught me Critical Thinking which was also an amazing interactive set of sessions, but since there were only two international students in the class, the class was mostly carried out in French including the assignments. But the professors were very supportive when we told them about the issue, so soon, it wasn't that big of a problem. Then I had Pop Art, taught to me by Ms. Beatrice Trotignon who was very passionate about the pop art movement and taught us in depth about the greatest artists of all times and even made us visit the infamous Modern Art Museum where we got to know the history of all the amazing artworks. I was given some interesting group works for our evaluations and I have been very keen to get this exclusive knowledge that I shared with my group. I also had a Capstone subject as my 5th subject which I got due to the unavailability of Artificial Intelligence which was guided and taught to me by Ms. Sophie Meritet. I was not very happy about this subject since I was extremely excited for the former subject, but soon I found out that this subject was as intriguing as I could have never imagined.
Other than all this cool stuff that I am grateful for, I won't mind discussing the great food that I discovered in Europe. Overall, my experience was very spectacular. I tried over 46 types of different cheeses which has been a very mouth watering experience. I tried the common cultural Butter Croissants and the Baguette as well as the Flamiche. I was also very glad to be able to try bacon, beef and other sorts of meats that are hard to get in India. I also tried Spanish and Italian foods which are pretty dominant all over Paris. Also, I would like to mention the Indian food in Paris that I got to try along with my friends and we literally felt like home. Those restaurants had proper Indian vibe and pure taste. Also, I got the chance to visit Innsbruck in Austria with my relatives for a week which was a splendid time not only because I had to spend no money also because this city has an impressive aura and magnificent natural beauty.
For most of the people, 2020 has not been so great. But for me, it has been like a movie! Quite adventurous and all the more Thrilling Experience.
- Nirmit Pahwa
CURSOR 5.0 | VOLUME 2 ISSUE 2, JULY 2020