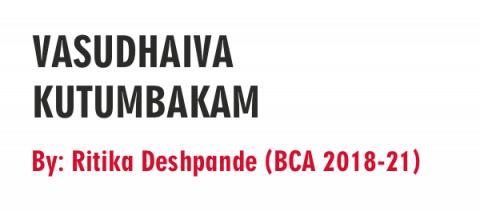 It all starts with a young man full of dreams and confidence to cherish a desire with anticipation to bring in a change in this world. 'Kutumb' i.e. family in Sanskrit is a group of people anchored and united together with selfsame values inculcated in them to accomplish happiness and prosperity amongst each other.
          Every individual born on this planet is tied down to a family. Family doesn't just define a set of people possessing the same ancestry or bloodline. It all comes down to people manifesting growth, caring and merriment together. Every family is an integral part of this world and each one in conjunction makes amends to the mankind to make it a better place to live in. Our lives as human beings in concert as families are passages on a voyage being discovered each and every day, this wold is a simple canvas that we paint on frequently, elegantly and abruptly as life continues on. And in the end it's in our hands to make this painting the most magnificent and beautiful to look at.
          This was the young man's dream. To bring every person around this world to generate one big massive family. To bring in abundant number of people with diversity based on ideas, values, individuality, religion, culture, skills and ethics.
          Imagine a vast, huge or enormous foundation of people, seekers of knowledge with uniqueness bonded together with just the same maxim of conscience. This is where 'Vasudhaiva Kutumbakam' comes in. This ideology defines or illuminates " the world is one family" meaning every individual around the globe forthcoming to this foundation is considered as a family, as one of ours, as part of our pack.
          The passage of time can stimulate individual's personal values and choices whether or not she /he will belong or segregate from the norm, however this does not determine reclusiveness but a personal choice based on the individual's systematic values and beliefs in life based on their experiences. That is where the supreme foundation "Symbiosis International University" works with. Every student at this foundation, Symbiosis, is instilled with this prime ideology.
          Splitting 'Vasudhaiva Kutumbakam' as Vasudha meaning earth, Eva meaning emphasising and Kutumbakam meaning family is a blend of this idea to make this world, a beautiful family. Symbiosis International University believes in providing and impacting students with multicultural, multilingual and multinational approach. Student from all around the globe from diverse backgrounds and contrasting heritages come together as one to learn, to grow and progress in life. Symbiosis has come a long way so far since 1971 and today is home to students from more than 74 different countries in the world.
          "Families are like branches on the trees. They grow in different directions, yet their roots always remain the same". Students of Symbiosis comprise and evolve with the same roots or values for the rest of their life. Kutumba or family support is extremely pivotal to an individual in the course of their life because the world is full of warships, petrifying incidences that lending a supporting hand or being the one to receive is the feeling of being safe.
         We, homo-sapiens live in an era where growth is the constant change. Every being is entitled to grow, to learn, to educate, to excel in life and choose to succeed in life according to their visions.
         Our modern story is based on adaption and education. And therefore education is a social institution that transmits attitudes, knowledge, beliefs, values and skills to its member through systematic learning. Here at Symbiosis, this is one of the main objectives. The academical culture at Symbiosis is a hub of knowledge, ideas and innovation. This institution doesn't just promote education, but is a mixture of distinct fields like cultural activities, sports, music, art, entertainment, law, technology, home sciences, commerce and so much more.
         Significantly Symbiosis International University believes in rendering or providing a home to all the students from abroad or international students. One of the motives of internationalization was to invite and expose international students across the globe to the Indian culture and ethics, festivals, traditions, sites and style of teaching or sort of education.
         This is the reason why these students wish the world to be an emblem of civilization and development because only then the world will be a better place to raise our progeny.
          Hence, Symbiosis International University infuses the ideology "Vasudhaiva Kutumbakam" to bring in the change in the minds of the upcoming youth to ameliorate the generation and to treat everyone with respect and sense of sensitivity. This youth, our youth and upcoming generation are the rise of change in this world and it all starts with the primary objective of education that we as students attain from.
          This ideology was conceived by honourable Dr.S.B Mujumdar Sir who has won many awards. His ideas have grown to become massive dreams and success stories for hundreds of students and would proceed for many more.
CURSOR 5.0 | VOLUME 2 ISSUE 2, JULY 2020